Rakesh is a visionary HR leader with strong business acumen, functional knowledge of Human Resources and proven expertise in translating business vision and strategies into actionable HR initiatives that improve performance, profitability, growth and employee engagement. He has handled multiple leadership roles with organizations of repute to spearhead the entire gamut of HR function including Talent Development & Acquisition, Change Management, Operations, compensation, benefits, Training etc. to create positive impacts on the organization's effectiveness. Rakesh is an transformational leader and has championed multiple change management assignments to create fit for purpose yet sustainable HR solutions. A handpicked professional for accelerated leadership development program, Rakesh was on secondment to different geographies in the United States and Malaysia and has rich exposure in handling International leadership roles within HR.
In his current role with Systra India as Chief Human Resource office (CHRO), Rakesh is a key member of India Management committee and collaborates with India CEO and business leadership to define strategic HR vision and mission of the organization and drives the strategic and key decision for the organization. Rakesh is passionate about people development & retention of key performers and is responsible for leading multiple transformational initiatives with focus on cultural integration of multiple office/sites, building robust leadership pipeline etc., creating integrated structures with focus on making HR deliveries effective and partnering with business in key strategies for various challenges. Rakesh is an astute professional driven by analytics and continuously strives to enhance HR performance improvement metrics for the organizations via measurement of key business strategies through balance score card approach.
Rakesh also has rich experience in driving a strong culture through application of organizational development interventions, coaching and business partnership with leadership. He is responsible for providing ongoing and targeted coaching support to leaders.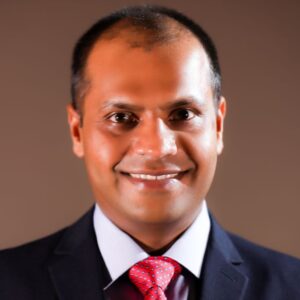 1. What does Leadership mean to you?
Leadership is to lead by example and show empathy at every step of the way. The true leadership character shows in difficult situations. Like they say adversities bring the best or the worst in people.
2. How do you keep your team motivated?
By giving them confidence, trusting their abilities, supporting them when they need, stand by them in difficult situations, taking the credit for mistakes and giving credit for achievements and letting them take charge (not micro manage). Leaders should practice rewarding their teams (not necessarily monetary) for every achievement and appreciate the efforts and hard work of their team members. As leader we may not know answers to all questions, but it is important to listen, learn and work with the team members to navigate through tough situations.
3. It is said that a leader is as good or as bad as his/ her team. Do you agree? Why?
Today's world is about collective success, a leader is only success if her/ his team is successful or vice versa. This era is about team work and collective efforts, no leader can play solo and win the game. Like they say, one is a leader if there are followers behind her/ him and for people to follow a leader, it is important that she/ he focuses on collective success.
4. How do you delegate responsibility? What is your mantra for making your team accountable?
While delegating tasks, it is important that the leader/ manger gives the required perspective to the people who are expected perform (half baked information can be fatal). It is important for people to understand the details of the task, its importance and desired outcome and thereafter it is equally important to give freedom and flexibility to the team to choose the best way to work on it. People will make mistakes and will learn from them and it is okay for the leader to let the team members make mistakes and help them learn from these mistakes to be better prepared for the future.
5. Have you struggled with work-life balance? How did you handle it? How do you handle it even now?
Each one of us struggles with work life balance, specifically with the intervention of technology, the lines between work and life have become blurred. In order to strike an effective work life balance, it is important that the individuals learn to prioritize work, delegate effectively and treat their and families well being in the same way as they treat work and one should take regular breaks from work to focus on their well being, health (physical and mental) and learn to disconnect from work.
Money to you is Survival
Your favourite film is Matrix 
Your favourite food is Chinese
Your favourite film star (male) is Aamir Khan
Your favourite film star (female) is Scarlett Johansson 
Your favourite holiday destination is Bali
Friendship to you is Trust
The person you admire the most is Azim Premzi, Diego Maradona 
Your dream is to be the CEO
Your best kept secret is I get nervous before important event, like any other human being